Fate always picks the damnedest days to drag me away from the keyboard. I'll try to do this rapidly.
The Manafort business played out
somewhat
as I had predicted. The verdict dropped on the day my "Spidey sense" told me it would. And there was, in fact, a hung jury on ten of 18 charges.
The deadlock seemed, at first, to be helpful to Trump. Upon further study, I came to understand that the inability to reach a verdict may prove very helpful to Mueller. I'll soon explain why.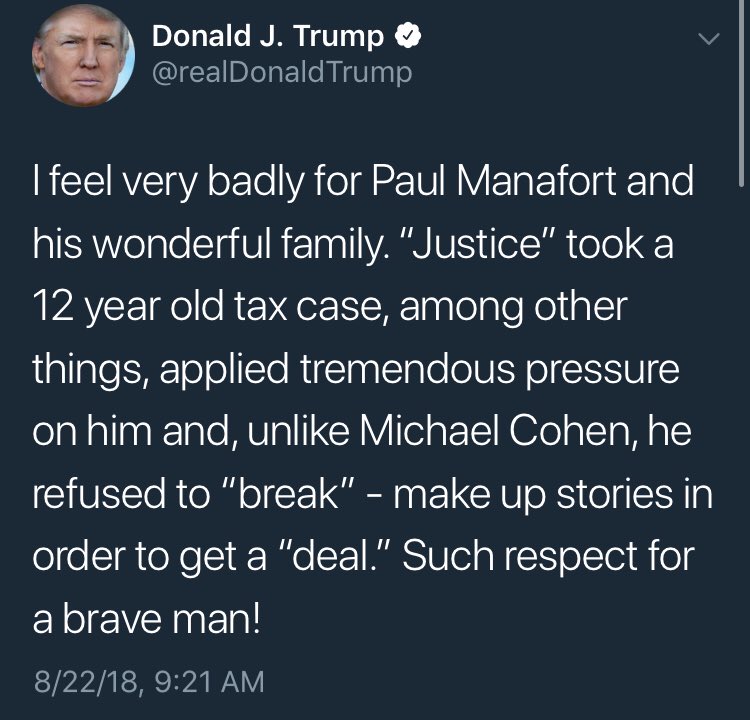 But before we get to that: Trump has made very,
very
clear that he will issue a pardon. See the tweet to your right.
An amazing tweet, is it not? Trump has been compared to a mob boss many times, but that comparison is unfair to mob bosses. John Gotti would have recognized the need for subtlety. If Big Paulie could read this tweet, he'd say: "For chrissakes, show a little
finesse
!"
Trump shoved some very big lies into a very small space. Where does that "12 year old tax case" claim come from? The trial was about tax returns covering the 2010-2014 period. Needless to say, Trump's characterization of the Cohen plea is completely wrong: Cohen did
not
make a deal.
In fact, the lack of a deal is what makes the Cohen case so odd. Michael Cohen almost gratuitously fingered his old boss as a co-conspirator. It was all quid and no quo. At least, no
visible
quo.
Gore Vidal once said that Richard Nixon lied when there was no reason to, which is the mark of a true artist. Donald Trump lies when it is against his interest to do so, which is the mark of an
insane
artist.
And then we have Michael Cohen, who, in yesterday's pleading, told
the truth
when there was no reason to. That's the mark of...
...of what?
I've been stewing on that problem for hours. While watching Lanny Davis' interviews on YouTube and straining to read between the lines, one answer now seems likeliest to me:
Michael Cohen has been working with Mueller in secret for a while now
.
How long a while? Dunno. Maybe a week, maybe a month, maybe longer. But if I'm right, keeping things
sub rosa
was a smart move.
Mark Penn's counteroffensive
against Cohen will be savored by all fans of surrealism.
Why was Michael Cohen investigated? Because the "Steele dossier" had him making secret trips to meet with Russians that never happened, so his business dealings got a thorough scrubbing and, in the process, he fell into the special counsel's Manafort bin — the bin reserved for squeezing until the juice comes out. And now we are back to 1998 all over again, with presidents and presidential candidates covering up their alleged marital misdeeds and prosecutors trying to turn legal acts into illegal ones by inventing new crimes.
WTF? The Cohen case was about Stormy, not Steele! As far as I can tell, the dossier had nothing to do with anything that has happened to Cohen. And in what universe is it acceptable to describe violations of campaign finance laws as "trying to turn legal acts into illegal ones by inventing new crimes"?
Nevertheless, most Trumpers are going to buy into Penn's masterpiece of insanity.
The deadlocked charges in the Manafort case may hurt Trump, not Mueller.
Cohen flipped, or at least is on the cusp of flippage, for reasons which everyone is now trying to guess. I understand that Cohen's wife is also in some potential legal jeopardy. Even more importantly,
the state of New York
stands poised to bring charges against Cohen and/or his wife.
I said from the start that state-level charges (or the threat thereof) would prove key. On the federal level, Trump wields the power of the pardon. In order to pressure his comrades in criminality, we need to think state.
So why aren't there any state charges -- yet -- against Paul Manafort?
While pondering over that poser, I finally understood an important fact: The Manafort jury reached a counterintuitive conclusion.
The charges on which the jury deadlocked may hurt Trump much more than the charges that resulted in a conviction.
Why? In order to understand this point, roll your eyeballs over
this section
from a Vox story published last April. We need to be clear that this is a story about Cohen, not Manafort. But the principle holds true.
New York has laws that closely mirror the federal ones Cohen stands accused of breaking. Under the state's double jeopardy statutes, New York prosecutors couldn't go after Cohen if Trump pardoned him for a specific federal crime. But they could go after him for related ones.

Take federal wire transfer and banking laws, which Cohen may have broken if he lied about the reason he got a loan to pay off one of the women and transferred her $130,000. That would also be illegal in New York, which outlaws both bank and wire fraud. New York prosecutors could go after Cohen for bank fraud even if Trump pardoned him after a conviction for federal wire fraud charges. The big difference would be that Cohen would have no White House protection.

Schneiderman hasn't announced any kind of investigation into Cohen, but he has been coordinating closely with the Justice Department and special counsel Robert Mueller on their investigation into former Trump campaign chair Paul Manafort. Some commentators argued that the early charges against Manafort, which didn't reference as many potential crimes as many had expected, were a sign that Mueller was leaving the door open for state prosecution and avoiding the double jeopardy issue.
I am convinced that this is the main reason why Schneiderman was "Me Tooed" out of office on bullshit accusations. The big question is whether the person now doing Schneiderman's job, Barbara Underwood, is working with Mueller on the Manafort case, as Schneiderman did. She does not seem to be mounting any noticeable fight against those state-level double jeopardy laws.
Still, let's take another look at these words:
Some commentators argued that the early charges against Manafort, which didn't reference as many potential crimes as many had expected, were a sign that Mueller was leaving the door open for state prosecution and avoiding the double jeopardy issue.
This tells us that Mueller has been thinking about a state-level prosecution all along. Now let's take a look at the charges on which the jury deadlocked. From
the WP
:
The charges on which the jury deadlocked were three counts of not filing a form to report a foreign bank account and seven counts of committing bank fraud or conspiring to commit bank fraud.
I don't know the specifics of the bank fraud laws in New York state, but in general, the state's laws on bank fraud mirror those of the federal government.
Consider the paradox: If the jury had not hung, Trump could now pardon Manafort of all charges. But the existence of ten deadlocked charges means that Manafort is now subject to the same "squeeze play" that proved so effective in the case of Michael Cohen.
There is no question of double jeopardy. The hung jury means that he can be retried on either the federal
or
the state level.
If Donald Trump issues a pardon, he'll subject himself to one hell of a political backlash. Yet Paul Manafort will still face the prospect of spending the rest of his life in jail.
Shera Bechard.
If Lanny Davis is going to do so many interviews, I wish someone would have the chutzpah to ask him about a matter that everyone is wondering about: Is Trump the actual father of the fetus aborted by Shera Bechard? Her twitter feed has once again offered hints and clues.
He did it all for the nookie.. so you can take that cookie.
She tweeted that on the same day as the Cohen verdict. A reader responded:
I hope someday your full truth comes out which should be your choice and on your terms if you decide to let it happen. You don't owe anyone anything.
Everyone knows what he's talking about. Shera may be slyly admitting as much in her response:
My tag line to my life is "I don't owe anything to anyone.."
Another reader response:
But the country could sure use your help if there's some more truth to tell. Just sayin
Shera knows full well that her readers think that Trump was the father, yet she refuses to tell them they're wrong. If Broidy were the father, then no NDA would prevent her from saying "I never had sex with Donald Trump."