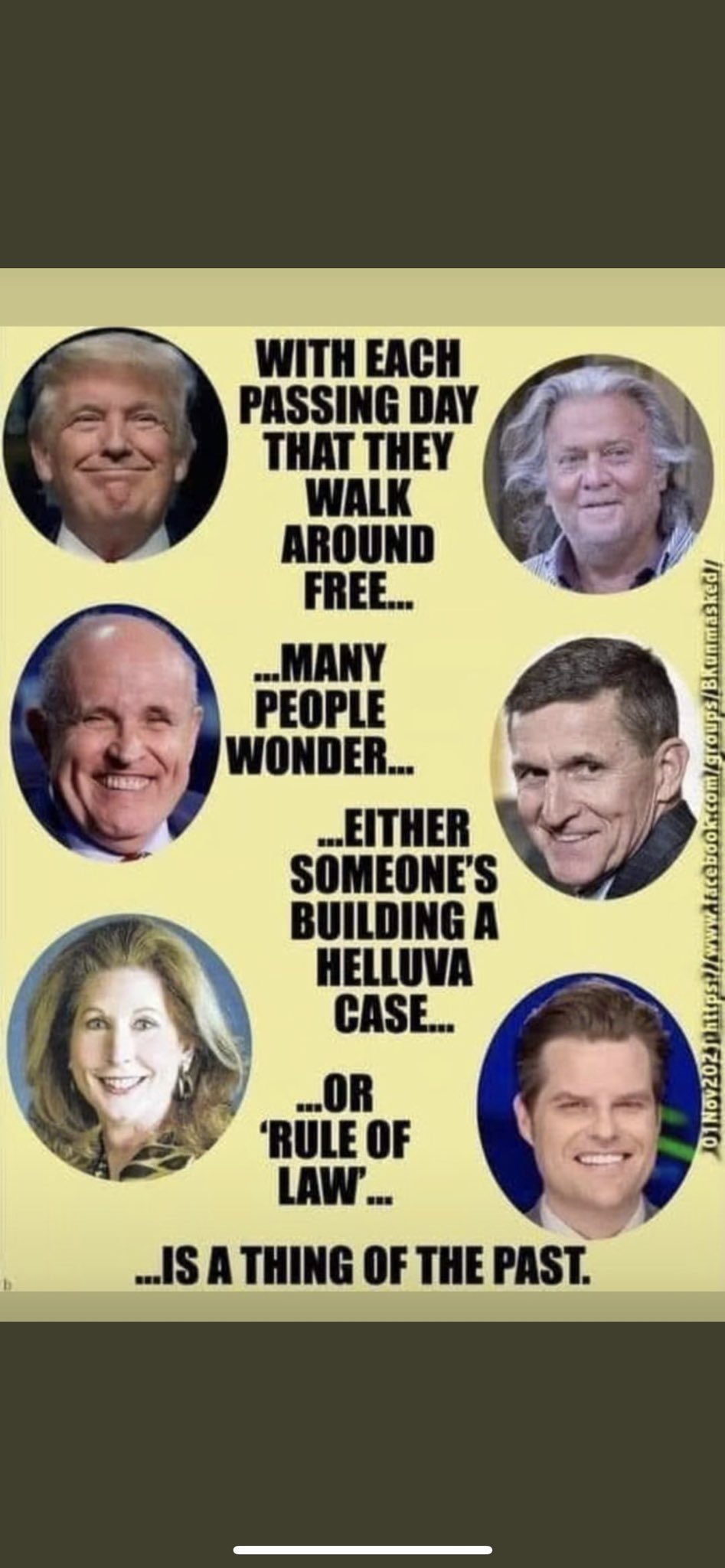 Donald Trump has committed felonies, says a federal judge. But NO-ONE expects an indictment from the Merrick Garland Justice Department.
Corruption has been normalized. We expect it.

Garland will let Trump commit felony obstruction. Garland won't enforce congressional subpoenas. Garland allows the Trumpers to get away with contempt of Congress. Everyone knows that Garland will do nothing about the January 6 terrorists, no matter what the congressional committee turns up.
(Why is Congress doing an investigation that DOJ should have completed months ago?)
And why didn't Garland do anything with Mueller's evidence?

Mueller's probe was terribly compromised. Where was the counterintelligence investigation we all expected? Where was the probe of Trump's financial dealings with Russians? Yet in the end, Mueller's team handed the Biden DOJ ten counts of obstruction of justice, all neatly packaged and ready to go. No further investigation needed. Those counts could have resulted in an indictment the day after Trump's presidency ended. Mueller made that very point in his congressional testimony.

Do you really think that Mueller's evidence was insufficient to convince a D.C. jury? Trump could and should have been jailed a year ago.

Garland's damnable inaction is indistinguishable from collusion. If Trump had chosen the Attorney General, would the results be any different? Frankly, at this point, I consider Jeff Sessions preferable to Merrick Garland.
Merrick Garland is the real reason why Biden's poll numbers are sinking with Democrats. Democratic voters mobilized in 2020 not because they were enthused about Joe Biden or his ideas but because they saw Trump's criminality and yearned to see him brought to justice. We really don't care about the current administration's policies. We want to see Trump in an orange jump suit.
We need that visual as much as we need food or water.
Biden has pursued the course I feared he would take: In the name of unity, he has shown an absurd degree of lenience toward his opponents, toward fanatics who would slit his throat if they could get away with it. Dems must forget about bringing everyone together for a national kumbaya moment. Unity is no longer possible. We're in an ideological war which will end only when one side is defeated.
I love Marcy Wheeler, but what people like her do not understand is that the public does not -- cannot -- follow the details of the many scandals that buzz in and out the news. People judge by results. If a jury hears evidence and sends Trump to jail, many (though by no means all) of Trump's followers will snap out of their collective trance. If Trump walks free, then a majority of your fellow citizens will buy into the narrative that the allegations were false and that he has always been the victim of conspiratorial forces.
Garland must go.
To further prove my point...

Why hasn't Matt Gaetz been arrested?

— Pam Keith, Esq. (@PamKeithFL) March 28, 2022
Roger Stone, who a few months ago accused Matt Gaetz of criminality, is back to being friendly with him, which makes me worry that he knows something that we don't. The first two screenshots below are from a few months ago. The third is from a few days ago. Quite a change. pic.twitter.com/Z6JjdVIUiX

— Jennifer Cohn ✍🏻 📢 (@jennycohn1) March 28, 2022