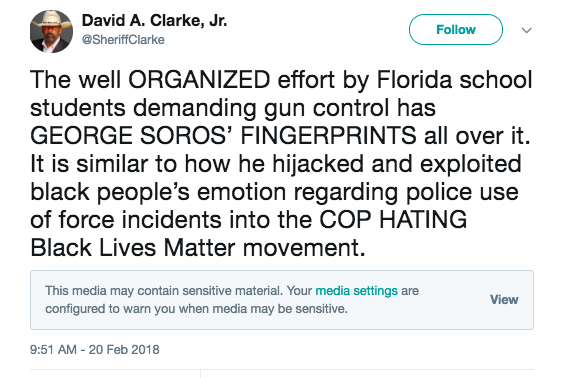 For the first time, liberals are
encouraging
Donald Trump to tweet out the latest inane conspiracy theory circulating in fringe circles. The kook right's response to the kids in Parkland has been so insane and repellent that -- from a purely political point of view -- Dems
want
the kooks to keep kooking it up. We also want the Very Stable Genius to hop aboard the Nut Train and take it all the way to Nutland.
See Charles Pierce's fine essay
here
.
An entire generation has grown up within this wingnut terrarium, which has its own private history, volumes of its own private conjuring words, and, in the case of the climate crisis, its own physical laws.

Those people are now in positions of influence, inside the government and out. One survivor, David Hogg, has been specifically targeted by the Gateway Pundit site, which is owned and operated by Jim Hoft, aka The Dumbest Man On The Internet (copyright, Wonkette LLC.). These clucks have White House press credentials. They shouldn't be allowed any closer to the White House than the nearest locked ward. But Donald Trump, Jr. thinks their coverage has been just swell.
Also
here
:
...no one has ever really gone wrong underestimating his interest in intellectual consistency or overestimating his willingness to get involved in petty, self-defeating feuds with people who have the moral high ground. Should be fun!
Do it, Donald. DO IT.
You know you want to. You
need
to. It's up to you to inform the world that the shooter was programmed by subliminal Satanic messages and chemicals in the drinking water! Nobody was actually shot at that high school. They were all CRISIS ACTORS! None of those kids actually died because none of them actually lived. And those students on TV, the ones asking for stricter gun laws...? They were all paid by George Soros and Hillary Clinton! They're all part of the FBI conspiracy against Donald Trump!
Tweet it, Donald! Everyone will
love
you if you do. The spirit of your father will look down on you and say "Son, I'm sorry I sent you to military school. I am SO proud of you right now. You're a much better man than I ever was." Only
you
can tell the world the truth, Donald! TWEET IT NOW!