Tweets from Kurt Eichenwald
:
When u cut taxes in a strong economy, raise inflationary pressures. So..higher interest rates. In anticipation, market drops. Mortgages cost more. If this is not a correction, this is what is happening. Go back to days be4 tax cut passed: its what i explained would happen

when u add on top of unnecessary tax cuts in a strong economy, then a high budget, you create unquestionable push to inflation. So enjoy your pennies from the tax cut. You'll pay dollars on mortgage and fall of house value if this recklessness continues

For the willfully stupid, here is an economist: Mark Zandi, chief economist of Moody's Analytics: "Deficit financed tax cuts and spending increases in a full-employment economy will result in more Fed tightening and higher interest rates." WHICH..kills the middle class.

Cutting taxes and running massive deficits at a time of full employment is economic suicide. If u want to sell your middle class house or refinance, do it NOW. The pennies in tax cuts will disappear in dollars of housing losses. But the rich still do fine. Gee, what a surprise

You cannot cut taxes on the basis of zero economic theory. When it runs counter to all economic knowledge, you don't have a fiscal policy. You have piggish donors for whom billions is never enough.
Tax cuts are supposed to be a stimulus. (Obama's stimulus was mostly a matter of tax cuts, although most Americans refused to believe that he had, in fact, cut taxes.) You do not need a stimulus of any kind at a time of full employment. Full employment is the time when you try to get out of the red.
That is basic Keynesianism: You run deficits during the bad times as an emergency measure, to get the economy moving again -- and you pay the money back during the good times. Seems reasonable, right? Yet the Republicans always insist on doing the reverse.
And now, a word from the stable genius: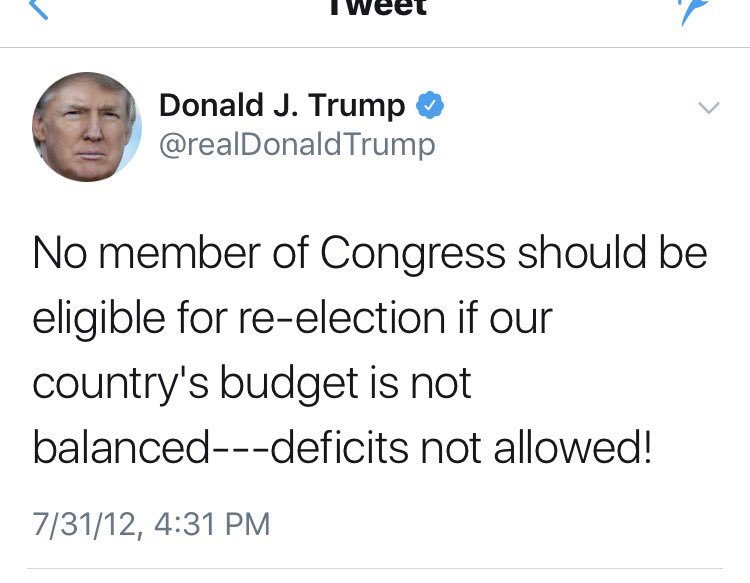 This, from the man whose sole accomplishment was a massive tax cut (mostly aimed at the wealthy) which is projected to increase the deficit by $1.5 trillion dollars.
A word on woke:
I've seen many slang expressions come and go. "Woke" is one I don't like. It started out fine, as a term used by black activists to denote the need for awareness and a reasonable degree of paranoia. But look at it now (via the Urban dictionary):
Woke as fuck

Knowing what the fucks up and not getting bogged down by what you're told to think by public interest groups and mainstream media.

>central banks
>oil wars
>media propaganda
>online censorship
>big pharma
>9/11 being an inside job
>child sex trafficking

I was reading about fractional reserve banking and it turns out were actually debt slaves.

"Dude ,you're woke as fuck"
"I was reading about fractional reserve banking..." Who, exactly, were you reading, my friend? Eustace Mullens, I'm guessing. If not him, then someone citing him, or influenced by him.
In other words, being "woke as fuck" means that you're an Alex Jonesian nutjob who believes in controlled demolition bullshit and Pizzagate. You've also become entranced by reactionary theories concerning the Federal Reserve. It's the same pattern I noted as far back as the 1970s: The far right keeps appropriating terminology from youth culture and black culture. That's how they're able to make their ancient and extremely familiar propaganda seem fresh and vibrant.
Apparently, you are considered
woke
only if you've let the far right hypnotize you. We have a new Orwellian paradox:
Woke is sleep.
A final note:
As noted above, Obama cut taxes, yet most Americans thought that he raised taxes. Obamacare decreased the number of uninsured, yet most Americans think that the number of uninsured went
up
. At last polling, the number of Americans who think that Hillary Clinton should be investigated for
imaginary ties to Russia
(68%) is substantially larger than the number of Americans who think that
Trump colluded with Russia
(47%).
How can there be any hope when we face an enemy who possesses the power to rewrite reality itself?