This post will soon present proof that Donna Brazile lied about the agreement which she says Hillary signed with the DNC. I hope that readers will spread the word.
But before we get to that, let's look at another piece of evidence. We now know that that the Russians are -- at the very least -- doing their best to create intra-party rancor among the Dems: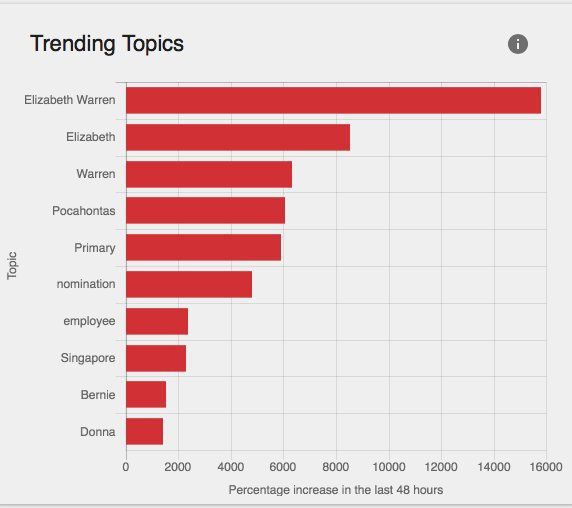 I found the chart
here
.
8 of the top 10 trending topics on @SecureDemocracy's Russian propaganda tracker are about the DNC/Democratic primary controversy.
Here
is the Securing Democracy website, and
here
is their Twitter feed. Obviously, the Russians are capitalizing on
Elizabeth Warren's statement this morning
. She's a good woman who foolishly fell into a trap.
I will now present proof that Warren should have viewed Brazile's claims with more suspicion.
The Brazile fabrication.
In our previous installment, we noted that the "damning" document referenced by Donna Brazile is not online. This absence is suspicious. If the thing reads the way she
says
it reads, there would have been a link to a pdf.
Strangely, this odd absence did not stop some of the early comments -- the ones from "ordinary readers" -- from discussing the way the document was supposedly worded. Such debates offer further evidence for my theory that right-wing troll network knew about Brazile's piece before Politico published it.
The same thought may have occurred to you that occurred to me: If this document is real, then why didn't we see it when the Russians hacked the DNC? This morning,
Josh Marshall
published a fascinating find...
There is what at least appears to be a draft of the agreement in the Wikileaks Podesta cache of all places and from what I can tell it doesn't include any of this.
By "this," Marshall refers to the parts of the agreement that are not "kosher." We know about these parts only from Brazile; we have no other evidence that this material exists. Everything in the document we have is, in fact, perfectly "kosher" and innocent.
Marshall goes on to offer these caveats:
Again, that version is just a draft. The final copy could definitely have included other codicils or side agreements. It's possible I'm misinterpreting the document. I'd ask campaign types to take a look.
You can find the Wikileaks version of the agreement
here
. It's a Word document. It doesn't look like a
draft
to me. Absolutely nothing about it indicates a draft. It's very detailed and well-formatted, with a codicil and spaces for signatures.
Moreover: The file is not labeled "DRAFT." It is labeled "FINAL."
It seems obvious that either the Russians or stateside Trump supporters found this FINAL agreement in the DNC cache and decided to use a falsified version to whip up some Hillary-hate just when things were looking bleak for Trump. By washing the falsifications through Brazile, they don't have to show an actual document. She can function as the fall guy if and when the whole thing is shown to be bogus.
They've done this sort of thing before. Remember
this exercise in creative writing
?
Why did Brazile go along with the plan? I don't know, but I suspect that she had an encounter with some James-Spader-as-Raymond-Reddington type. I don't know the carrot and I don't know the stick, but I do know that nearly everyone can be manipulated and pressured.
I've signed a few agreements in my time. I have
never
seen a draft agreement labeled "FINAL" -- and neither, I'm pretty sure, have you. Lawyers are very careful about such things.
Let us suppose, hypothetically, that the Wikileaks document really did bear the label "DRAFT." Have you ever seen so drastic a rewrite between the draft and the final version? Offhand, I cannot recall reading about a legal agreement which was drafted to say one thing and then massively re-worded to say something extremely different.
(Well, there's a rather involved story about the Schedule of Abjuration signed by Joan of Arc, but that's going back a ways. Maybe I'll tell the tale one of these weekends, after Trump leaves office.)
I'd like to hear from the readers: Do you know of a precedent for this sort of thing? Have you ever seen a "draft" agreement that was labeled "FINAL"?