Nota bene: A few minutes after I published this post, I discovered that yet another "holy shit" NYT article had hit the internet. Scroll down to the update if you're looking for the absolute latest.
These days, a cutting-edge blog post looks hilariously ancient three hours after publication. I had thought that I was done with this day's work on the tale of Junior, Jared, and that Russian lawyer -- but as the day progressed, a lot of new stuff came out. And by "a lot," I mean A LOT.
(But not "alot." There is no such word.)
Where was Donald Trump Sr. on June 9, 2016?
Many people dis the
Palmer Report
, but give 'em credit: On this occasion, Palmer has made a superb catch.
The New York Times, which broke the story of the Trump Jr meeting, says that it took place on June 9th at Trump Tower in New York. During most days of the election cycle, Donald Trump would have been out on the road campaigning. But on June 9th, he was also at Trump Tower, according to an NBC News article that was published at the time (source). Moreover, Trump Sr held a meeting of his own at Trump Tower that day which included Paul Manafort – who also attended the Russia meeting with Trump Jr.

It's still not clear which of the two meetings took place first that day.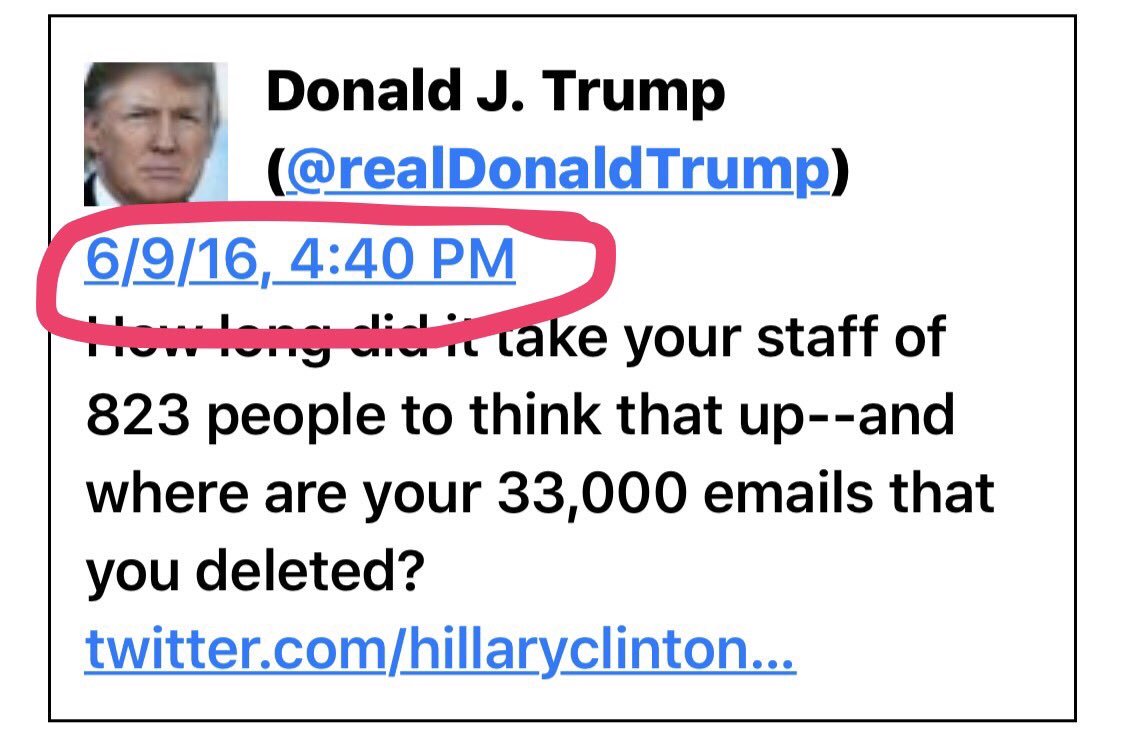 Keith Olbermann
also made a remarkable discovery concerning that date in history.
Hmm...Trump's very 1ST tweet about HRC's "missing 33,000 emails" appears to be from 6/9/16, after Manafort, Kushner, Don Jr met the Russian
Junior offered a similar tweet on that same date. What triggered this dual outburst?
Let us consider Palmer and Olbermann synoptically. What do we have? What kind of narrative emerges?
We have the strong suggestion of a narrative in which Trump Sr. knew full well what his son, his son-in-law and his campaign manager were doing under his roof. We also have reason to believe that the Russians had come up with a serious plan to smear Hillary.
You see, in the real world, Hillary did
not
delete those emails. Her lawyers did that task because the messages were personal and not connected to the request made by Congress. Most of those emails were
recovered by the FBI
. (I wish Keith Olbermann had mentioned this crucial fact in the video embedded above.) The Bureau's analysts verified that the messages were indeed of a personal nature, just as the lawyers claimed.
Throughout the campaign, and even unto this very day, Trump has pretended that 33,000 emails were "bleached." Not so. Trump lied about that. So did many other Republicans. So did Bernie and his supporters.
As long-time readers know, I have long argued that either the Russians or Team Trump came up with a plan to concoct a false document which was to be passed off as one of those deleted emails. I now suspect that Junior, Jared and Manafort met with that lawyer on June 9 in order to finalize this plan.
You may now be wondering: If Team Trump and the Russians had come up with such a scheme, why didn't they try to pull it off? Well, they
couldn't
-- not after it was revealed that the FBI had recovered most of those emails. It would have looked too suspicious if Guccifer or Assange had somehow stumbled across astounding, game-changing emails that escaped the FBI's recovery efforts.
Yes, my theory is just that: A theory. But my theory makes a lot more sense than does the guff we're now hearing from the White House.
THAT dossier.
We now know the identity of Junior's acquaintance -- the one who hooked Junior up with lawyer Natalia Veselnitskaya. The link-man was entertainment impresario Rob Goldstone, a man well-known to Donald Trump the elder; the Moscow beauty pageant brought the two together.
Goldstone manages a Russian (actually, Azerbaijani) pop star named Emin Agalarov -- and Donald Trump Sr. once agreed to appear in
an Agalarov video
. Hilarity ensued.
Emin's father is Aras Agalarov, one of Russia's richest men. Of course, he is a close Putin crony. In Russia, the billionaires are
selected
, not self-made. See
here
:
Donald Trump's links to the Agalarovs date to the Miss Universe contest in Moscow in 2013, which the father and son had wanted to bring to the Russian capital. Trump, who owned the contest at the time, had long pursued the idea of a Trump Tower in Moscow, though that deal never happened; Trump also had dealings in Azerbaijan, which a story in the New Yorker described as his "worst" ever—though Agalarov says he played no role in that deal.
In March, Forbes reported that Agalarov claimed to have been in touch with the Trump family since last November's election. He said he exchanged messages with Donald Trump Jr. in January and that the president sent him a handwritten note after the Agalarovs congratulated him on his election victory. The magazine added:


Agalarov knows that maintaining that good favor will require continued contact with Trump's inner circle. To that end, he says he exchanged messages with Donald Jr. around the time of the inauguration, but was told no deals could be pursued until the company's leadership structure had further settled into place.

And Agalarov has testified to the president's loyalty. "Now that he ran and was elected, he does not forget his friends," Agalarov told Forbes.
Agalarov's name came up in the Steele Dossier -- which Republicans pretend has been discredited. (Not true.) As you may recall, I
scanned in
that dossier on the day it became available as a series of jpgs. The text claims that Agalarov had access to sexual kompromat on Trump:
- Two knowledgeable St Petersburg sources claim Republican candidate TRUMP has paid bribes and engaged in sexual activities there but key witnesses silenced and evidence hard to obtain

- Both believe Azeri business associate of TRUMP, Araz AGALAROV will know the details
1. Speaking to a trusted compatriot in September 2016, two well-placed sources based in St Petersburg, one in the political/business elite and the other involved in the local services and tourist industry, commented on Republican US presidential candidate Donald prior activities in the city.

2. Both knew TRUMP had visited St Petersburg on several occasions in the past and had been interested in doing business deals there involving real estate. The local business/political elite figure reported that TRUMP had paid bribes there to further his interests but very discreetly and only through affiliated companies, making it very hard to prove. The local services industry source reported that TRUMP had participated in sex parties in the city too, but that all direct witnesses to this recently had been "silenced" i.e. bribed or coerced to disappear.

3. The two St Petersburg figures cited believed an Azeri business figure, Araz AGALAROV (with offices in Baku and London) had been closely involved with TRUMP in Russia and would know most of the details of what the Republican presidential candidate had got up to there.
Hmm. So if
that
part of the dossier is true -- and remember: Other sections
have
been verified -- then it seems quite possible that Moscow sent a powerful lawyer to Trump Tower in order to make Trump an offer he couldn't refuse.
From
the Independent
:
Mr Trump's eldest son said he felt obliged to attend the meeting
Oh, I'll just
bet
.
Speaking of the Steele dossier:
There is a concerted effort on the part of GOP propagandists to convince the public that the entire Russiagate story derives from this document. Hardly! If the Steele dossier never existed, we'd still have one hell of a case.
According to the propagandists, the document was a fake compiled by the grand Clinton/Soros/Illuminati conspiracy. A laughable accusation, this: Christopher Steele was not a Clinton toady; he is a respected (and, I'm given to understand, Tory-leaning) former MI6 agent who was the head of the Russia desk. One story identified him as Litvinenko's case officer.
Trump defenders say that the Dossier was commissioned by a firm called Fusion GPS. In the right-wing imagination, Fusion is nothing more than a tentacle of the Great Clinton Conspiracy. In reality, the original sponsors of the Dossier were
Republicans
opposed to Trump. Any oppo they found would have had no value if it were groundless. (Most people forget that the dossier also contains some oppo material on Clinton herself.)
Rightwingers have identified an extremely tentative Fusion link to the NYT's latest bombshell concerning that infamous meeting in Trump Tower. It's a complicated story. Bottom line: This alleged link has prompted some right-wingers to float the idea that the Evil Clinton Conspiracy somehow
forced
Jared and Junior to meet with that Russian lawyer.
Want to know more? One of the right-wing outlets pushing this absurd argument is
Circa
, an arm of the Sinclair network. (As you probably learned from John Oliver, Sinclair is the new Fox. But they're even
worse
.)
A note about Circa:
Circa is run by right-wing "journalist" John Solomon, identified in
this superb Josh Marshall piece
as a notorious transmitter of Republican smear stories. As it happens, Solomon is also the guy who wrote that recent story in The Hill which claims that Comey's memos contained classified material. So far, we have no other sources to back Solomon's allegation.
A note about Fusion:
Fusion was founded by a couple of Wall Street Journal alumni. Remember when everyone presumed that the WSJ skewed Republican? The editorial page was particularly reactionary.
Here's a bit of Fusion history
that the Trumpers won't tell you about -- in fact, it complicates the whole story:
During the course of the case, Browder claimed that Fusion GPS had previously been hired to undertake a pro-Russia campaign to aimed at stopping passage of the Magnitsky Act,[10] named after Sergei Magnitsky, a lawyer and auditor who died while being held without charges in a Russian government prison after he revealed that the Kremlin had stolen hundreds of millions of dollars from Hermitage Capital Management.

On March 30, 2017, Senate Judiciary Chairman Chuck Grassley, R-Iowa called for a U.S. Department of Justice investigation into connections between Fusion GPS and Russia, and an inquiry as to whether Fusion GPS was acting as an unregistered foreign agent.[10] The company has denied the claim that they were engaged in lobbying or violated the Foreign Agents Registration Act.
That Russian lawyer, Natalia Veselnitskaya, visited Trump Tower because she wanted the Magnitsky Act overturned. Fusion wanted the same thing. In fact, Veselnitskaya was a Fusion client!
Fusion (allegedly) was pro-Russian. So (obviously) is Team Trump.
I'm not sure how to interpret all of this, but one thing is certain: The right-wingers have painted a simplistic picture of Fusion which does not resemble reality.
Is the Steele dossier a fake, as the Trumpists insist?
Logic argues otherwise.
1. Trump has not sued Orbis, the company that produced it. (A Russian venture capitalist
has
mounted a lawsuit. No-one is claiming that Steele got everything right. The document presents raw intelligence and was not intended for publication.)
2. What would be the point of creating an incredibly elaborate forgery
and then keeping it secret during the campaign
? Propaganda has value only if you propagate it.
3. As noted above, Christopher Steele is the former head of MI6's Russia desk. He is not a dirty trickster of the Roger Stone/Karl Rove school.
4. Important parts of the dossier have been verified. See
here
and
here
.
UPDATE:
Just when I thought I was finally, finally done with this story --
this hit
.
Before arranging a meeting with a Kremlin-connected Russian lawyer he believed would offer him compromising information about Hillary Clinton, Donald Trump Jr. was informed in an email that the material was part of a Russian government effort to aid his father's candidacy, according to three people with knowledge of the email.

The email to the younger Mr. Trump was sent by Rob Goldstone, a publicist and former British tabloid reporter who helped broker the June 2016 meeting. In a statement on Sunday, Mr. Trump acknowledged that he was interested in receiving damaging information about Mrs. Clinton, but gave no indication that he thought the lawyer might have been a Kremlin proxy.

Mr. Goldstone's message, as described to The New York Times by the three people, indicates that the Russian government was the source of the potentially damaging information. It does not elaborate on the wider effort by Moscow to help the Trump campaign. There is no evidence to suggest that the promised damaging information was related to Russian government computer hacking that led to the release of thousands of Democratic National Committee emails.

But the email is likely to be of keen interest to the Justice Department and congressional investigators, who are examining whether any of President Trump's associates colluded with the Russian government to disrupt last year's election.
May I humbly suggest that this brand new story lines up rather nicely with my own theory, as outlined above? I believe that the purpose of that meeting was to outline a plot to
smear
Hillary.