As the Clinton-haters (like
Robert Reich
) speak of "remaking" the Democratic Party, we have to make one thing clear: This is not the time for reconciliation between the Clinton supporters and the BernieBots.
We cannot reconcile ourselves to a lie. We cannot reconcile ourselves to evil.
If the Sanders supporters take over the Democratic party, I will have nothing further to do with that party -- and I am not alone. If the year is 1944 and the place is France, you cannot ask the Gaullists to reconcile themselves with the followers of Pétain.
Bernie Sanders -- wittingly or unwittingly -- was Donald Trump's agent.
If you cannot understand that key point, you will never understand what happened in 2016. And if you persist in the delusion that "Bernie woulda wunnit" (sometimes phrased as "
polls prove
Bernie woulda wunnit"), you are a
de facto
agent of the Donald Trump 2020 Re-Election Campaign.
I shall now prove -- and I mean fucking
prove
, once and for all, beyond all debate, with the kind of irrefutable argument required in higher mathematics -- that Bernie Sanders is corrupt. I shall do so using photographic evidence. If the connection to Bernie isn't be obvious at first, keep reading.
Here is photo number 1: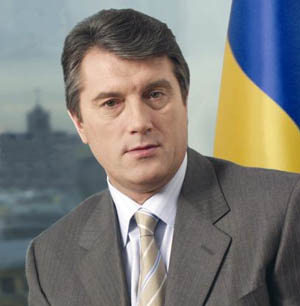 This is Viktor Yushchenko, president of Ukraine 2005-2010. He won that election in a revote, because the Ukrainian Supreme Court determined that there had been widespread fraud in the election of 2004.
Good looking guy, right? Many have said that he could have been a movie star.
But that fraudulent election was not the only misfortune to hit him in 2004. First, there was an assassination attempt -- and then, eight weeks before the election,
this
happened.
Dioxin poisoning. His great electoral rival, Viktor Yanukovych (considered a puppet of Vladimir Putin) played dirty.
Really
dirty.
Yes, I know that the names are confusingly similar: Viktor
Yanukovich
was the bad guy and Viktor
Yuschenko
was the good guy. Here's a good way to remember who the bad guy is: You can't spell "Yanukovich" without
Y-A-N-K
. As it turns out, Putin's evil puppet hired a couple of Yanks to put him in power.
Here's where the Bernie/Donnie connection comes in.
The two Yanks were Paul Manafort and Tad Devine. Manafort infamously went on to head the Donald Trump campaign, while Devine became Bernie Sanders' very own Karl Rove.
It must be understood -- it must never be forgotten -- that Tad Devine continued to work for Yanukovich until 2010, six years
after
the world learned that Yanukovych had tried to kill his rival.
Tad Devine was a key henchman to a killer. The preceding sentence would be actionable if untrue. But I can make that statement in public without the slightest fear of a libel suit, because my words are provable.
No one can argue that Devine did not know the truth about his client. And no one can argue that Sanders did not know the truth about Devine.
There is no counterargument. Screaming nonsense about
emails
and
Benghazi
does not constitute a counterargument. If you have any honesty at all in your heart, you will admit that if Hillary had hired That Dioxin Guy, you would have
horsewhipped
her.
I need offer no further proof that Bernie Sanders is corrupt, although I have much more to say on that score. At this point, if you feel that the case against Sanders remains vague or unsettled -- well, I'd call you "brainwashed," but that term implies that you had a brain to begin with. Ego will always prevent you from admitting that you fell for a propaganda campaign.
Ego also prevents you from making another admission: You can't criticize Trump for hiding his tax returns while excusing Bernie for hiding
his
tax returns. Bernie's excuses were even more pathetic than Trump's. Obviously, Bernie is hiding some dirty secret that rendered him open to manipulation.
Yes, Bernie Sanders said words that pleased progressives. So what? Actions speak louder than words, and
Bernie Sanders has accomplished nothing of major value in his entire political life
.
Here is the first and last major item on the Sanders resume:
He helped to elect Donald Trump.
He spearheaded a propaganda campaign which spread stories from Breitbart, Fox News and various Alt-Right sources all across Reddit and Facebook.
The Bernie campaign criticized Hillary for giving lectures -- mere words -- at Goldman Sachs HQ. Yet the main BernieBot propaganda outlet was Salon, run by a Goldman veteran and kept financially afloat by a Wall Streeter. The BernieBots often passed along articles published by another Goldman alum, Breitbart publisher Steven Bannon. The hypocrisy was
infuriating
.
The Bernie campaign continually demonized "Correct the Record" (the Clinton response team) as a nest of liars. Whenever Clinton supporters made their case (invariably in calm and measured tones), they were met with the kind of vile, unthinking, over-the-top
ad hominem
attacks characteristic of the brownshirts who have commandeered 4chan and Reddit.
If you make an honest study of the kind of rhetoric employed by Nazi thugs throughout the 1920s (Richard Hanser's
Putsch!
offers an excellent place to start), you'll recognise that the followers of Bernie Sanders spoke in precisely the same fashion. We have heard the same appeals to unreason, the same relentless demonization of opponents, the same mindless mob mentality, the same false claims of victimhood. It is not an exaggeration to say that Bernie Sanders -- a Jew old enough to recall World War II -- headed up his very own version of the Nazi party.
By the way: Don't you dare quote Godwin's law to me. Fuck Godwin. We're beyond that point.
Cannon's law: Any Trump-era political discussion which does NOT contain a reference to fascism is naive.
Bernie Sanders did nothing to stop his followers from their descent into fascist barbarism. How could he? He was dirty. He was controlled. He was manipulated by those who knew the secret that prevented the release of his taxes. He was always --
always
-- working for Trump.
That's why trolls filled the comments section of every political website with endless accusations that anyone defending Hillary Clinton was a paid shill. (Many of those trolls, we now know, live in Russia.) The Bernie movement was founded on Alex Jones-style conspiracism. The Sanders movement inserted the poison of right-wing paranoia into the Democratic bloodstream.
The Stone factor.
Donald Trump's old friend and strategist, Roger Stone, has been the King of the Dirty Tricksters since Watergate. Many people don't know that Nixon's ratfuckers funneled money to Shirley Chisolm in 1972. They funded a far-left insurgency within the Democratic party in order to weaken Nixon's opponents. The dirty tricksters wanted to force mainstream Dems to make statements critical of Chisolm, a former Communist who stood zero chance in the general election. This, in turn, would have allowed the Nixonites to stoke resentment among African Americans. (During the primaries, Nixon's secret team also funded a challenge from the Democratic right, in the form of Los Angeles mayor Sam Yorty.)
In the years since, Stone and his comrades-in-deception have frequently relied on this divide-and-conquer strategy. In an unpublished political biography, Stone described his tactics. His recipe is summarized
here
. Stone advocates a five-fold strategy: 1. Guilt by association (as when he created a fictitious "Gays for McGovern" group in 1972); 2. The creation of fake "non partisan" opposition groups; 3. Smearing opponents, usually via proxies; 4. Divide-and-conquer; 5. Vote manipulation.
Please heed this description of option four:
The fourth, and one of the most effective, is through fragmentation of the vote. There is, say, overwhelming support for candidate A, who will raise the minimum wage, versus candidate B, who won't. You split this overwhelming vote by funding another candidate, who wants to raise the minimum wage even higher, and who chastises candidate A for compromising their principles and being beholden to business interests for not asking for a higher wage. Through a vote split, candidate B, the one who says he believes the condition of workers must be improved, but not through easy sounding solutions like a higher minimum wage, scores a victory.
The words which I've placed in boldface are absolutely damning -- and please remember that they were written years before the 2016 campaign. In exact accordance with Stone's example, Bernie used a minor disagreement over the size of the minimum wage increase as a cudgel against Hillary Clinton. He thereby helped to insure ultimate victory for the Republicans, who want no wage protections at all.
Forecast and fulfillment. This did not happen by accident.
Roger Stone was always a secret leader of the Trump campaign, despite his staged tiff with Trump. (One of Stone's rules:
Always use a cut-out
. The fake rift allowed Stone himself to act as a deniable cut-out for the Trump campaign.) And Bernie Sanders was a secret functionary of Roger Stone.
The Bernie campaign was yet another vote-fragmentation device, just like Chisolm in 1972, John Anderson in 1980 and Ralph Nader in 2000. The trick is painfully obvious, once you learn of its existence. Yet this tactic keeps working, election after election, because dimwitted young lefties -- blinded by idealism and forever trapped in the eternal Now -- never learn the necessary history.
They also possess an endless ability to convince themselves that disaster is preferable to even the slightest compromise of their political purity. They can never comprehend the simple fact that the views held by their Facebook friends are not shared by most voters.
And now they have wedded themselves to the truly insane delusion that the "red" counties in Wisconsin, Pennsylvania, North Carolina, Florida and Michigan secretly yearn to vote for a socialist.
Would Bernie have won a head-to-head match-up against Trump? Of course not.
As I've argued at great length previously, Bernie Sanders would have lost all 50 states -- including Vermont.
I speak literally.
Polls which suggest otherwise are deceptive, because they do not take into account the kind of opposition that Sanders surely would have faced. The rightists never employed their formidable weaponry against Sanders. They had no reason to do so -- and they had every reason to stoke anti-Clinton resentment among the fanatics who felt the Bern.
(End Part One. More to come.)