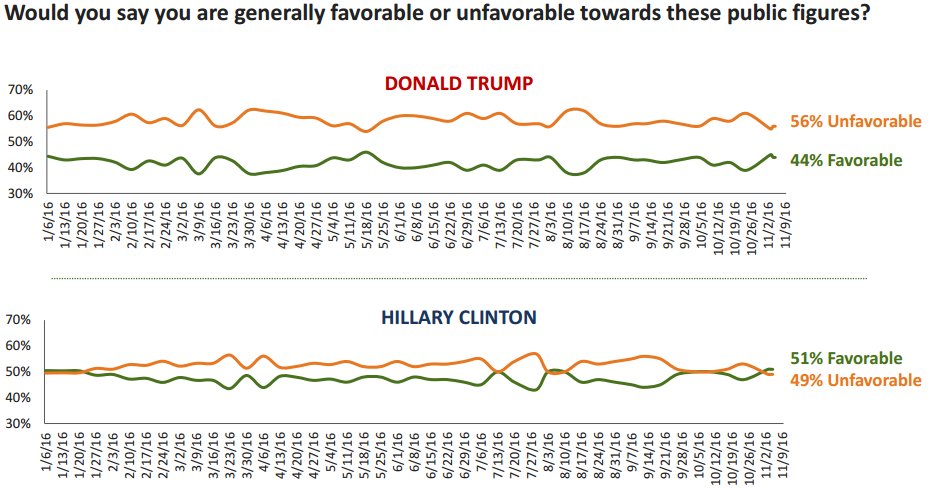 From
here
. I think that this Reuters poll substantiates the point made in my preceding post: The Trumpers went a smear too far.
Several
smears too far. When you start accusing your opponent of devil worship and pedophilia -- with NO evidence -- you end up making yourself look bad.
To paraphrase Nietzsche: "If you sling too much mud, the mud splatters
thee
."
Comey has confessed what many suspected:
Nothing on that computer made Hillary looked bad
. Yet the Trumpers are
still
spreading insane stories of child porn and an NYPD raid of the Clinton residence. At some point, even Trump's goofiest, least-educated supporters have to say to themselves: "Maybe these guys have been lying to us. Maybe you
can't
believe everything you read on Facebook, Reddit and 4chan..."
A few days ago, I offered the theory that hackers planted fake emails from Clinton on Weiner's computer. Looks like I was wrong. (Either that, or someone in the FBI studied the metadata and spotted the fake
as
a fake.) However, the Clinton camp is warning us that a
bogus document
might well hit us tomorrow by way of Wikileaks. (If Assange won't push it, "Guccifer" surely will.)
The Trumpers -- or should I say the Stoners? -- have spewed many lies over the past months. By this point, the majority of Americans must feel disinclined to take any last-minute "damning revelations" at face value.
Added note:
Kurt Eichenwald's twitter feed
has some gems tonight.
Dont know why I go 2 the painstaking trouble of developing sources. Every Trump supporter seems to know every secret fact about everything.
That's modern conspiracy theory for you. When you possess the illumination of paranoia, you don't need evidence; you just swallow whatever Alex and Milo are dishing out.
Now that we know HRC email story is gone again, let's ask Trump why he deletes emails in violation of court orders.
Left eye open, right eye blind.
I was able 2 vote in 10 mins. The nurse's aide who helped my mom took 3 hours. Guess what race each of us is & what part of town we live in.
I suspect that we're going to be hearing quite a few stories along those lines. We're already getting some reports from Ohio which indicate that it's 2004 all over again. Maybe worse.
I am really getting terrified by the number of senior defense/law enforcement trump people showing they know nothing about computers.
Correct. For example, we know that Hillary could not have deleted any work-related emails, because -- as mentioned in a recent post -- those emails exist
in multiple copies
. (If I send mail to you, we both have copies: I can delete my copy, but I can't touch yours.) The Trumpers never tell you that part. In fact, Donald is
still
peddling his Big Lie about "30,000 deleted emails" to the gullible rubes who attend his rallies.