(This article contains some original research on an important topic. Please spread the news.)
You never see much discussion of "elite secret societies" in this blog. That line of research, or pseudo-research, has become the province of Alex Jones and other reactionary Illuminati-spotters.
I still recall the time, around 1990, when someone handed me a copy of Anthony Sutton's thin book on Skull and Bones.
This explains everything
, my acquaintance told me. After reading the work, my reaction was: "That's
it
? Where's the freakin'
evidence
?"
I have a similar reaction whenever some quasi-illiterate paranoia-junkie tries to convince me that the Illuminati is real.
But one secret society
is
real -- and truly influential -- and woefully under-studied. Almost nobody talks about it. I'll bet you an apple fritter that you can't name it.
Why don't more conspiracy buffs talk about this group? Three reasons:
1. This organization is truly international in scope. To work out the puzzle, you have to deal with material written in many different languages. Most of our proudly nescient conspiracy buffs speak only
Amurkin
, gawdammit.
2. This organization has nothing to do with the occult; it's purely about power and money. Most American conspiracy buffs are emotionally wedded to the puerile image of elite power-brokers donning black robes and sacrificing goats to His Infernal Majesty.
3. Most importantly: This organization is
right-wing
and fiercely anti-socialist. Most American conspiracy buffs are also right-wing and anti-socialist. If they ever heard about this group, they would probably say:
Hey, these are the GOOD guys!
This organization has various names. These days, it is usually called
le Cercle
-- the Circle. A long time ago, members knew it as The Pinay Circle (
Le Cercle Pinay
), after the conservative French politician Antoine Pinay, who served as France's prime minister in 1952.
Pinay and Germany's Konrad Adenauer founded the group. Some years later, after Pinay developed health issues, his aide Jean Violet functioned as "grandmaster" of what became known as the Violet Circle (
Le Cercle Violet
).
(If you're an all-Amurkin conspiracy buff who wants to talk about this stuff without sounding like a rube, here are a few pronunciation tips:
Le Cercle
is "Luh SAIR-cluh,"
Jean Violet
is "Zhun Vee-oh-LAY" and
Pinay
is "Pee-NAY.")
I first learned about the Circle from an early issue of
Lobster
. Editor Robin Ramsey has followed the story ever since -- in fact, he gives the group a shout-out in his
latest post
.
David Guyatt
is one of the few writers to give this group any serious attention.
But the researcher who has done more than anyone else to shine a light on this Circle is the extraordinary David Teacher -- who, over the course of three decades, has somehow managed to scoop up much of the group's internal documentation. Many of those documents were appended to the third addition of his magisterial work
Rogue Agents
.
A fourth edition of that work recently appeared. You can acquire it for free
here
. If you want the documentation that appeared only in edition three, go
here
. (Please understand that the latter PDF file is much larger.)
This is
not
your typical conspira-crap book. Teacher is a scholar who writes to a high standard, and he cites hundreds of sources --
good
sources. (He's not at all like those fringe writers who can cite only other fringe writers.)
Teacher does not portray the Circle as a monolithic "bad guy" group. Although this organization has some superficial similarities to SPECTRE (as depicted in the James Bond films), it's really quite different.
Rogue Agents
demonstrates that The Circle is just one force among others, with considerable
but not illimitable
influence. Within the Circle are individuals and constituent organizations that will, from time to time, be at odds with other members and organizations. The leaders have even invited people who do not share the Circle's basic philosophy to speak at their secret conclaves. (Chuck Hagel is one example.)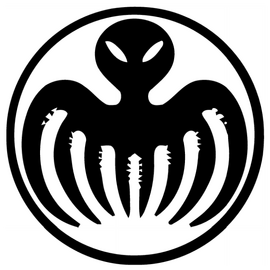 Do not underestimate the scope of this organization, which has attracted many of the most powerful individuals in the western world. The Circle has its own intelligence service, called 6I (pronounced "Six Eye"). 6I sometimes acts in concert with -- and sometimes against -- the interests of the CIA and other western services. After the CIA scandals of the 1970s, 6I oversaw certain covert operations that the Agency could no longer do.
From Teacher's introduction:
This study is an attempt at a preliminary transnational investigation of the Paneuropean Right and particularly of the covert forum, the Cercle Pinay and its complex of groups. Amongst Cercle intelligence contacts are former operatives from the American CIA, DIA and INR, Britain's MI5, MI6 and IRD, France's SDECE, Germany's BND, BfV and MAD, Holland's BVD, Belgium's Sûreté de l'Etat, SDRA and PIO, apartheid South Africa's BOSS, and the Swiss and Saudi intelligence services. Politically, the Cercle complex has interlocked with the whole panoply of international right-wing groups: the Paneuropean Union, the European Movement, CEDI, the Bilderberg Group, WACL, Opus Dei, the Moonies, Western Goals and the Heritage Foundation. Amongst the prominent politicians associated with the Cercle Pinay were Antoine Pinay, Konrad Adenauer, Archduke Otto von Habsburg, Franz Josef Strauß, Giulio Andreotti, Manuel Fraga Iribarne, Paul Vanden Boeynants, John Vorster, General Antonio de Spínola, Margaret Thatcher and Ronald Reagan.
Once the fragmented information is pieced together, the network that emerges cannot be overlooked: the Cercle complex can be seen to be an international coalition of right- wing intelligence veterans, working internationally to promote top conservative politicians who would shape the world in the 1970s and 1980s.

To take the British example, much of the destabilisation of British democracy in the 1970s can only be fully understood by analysing the international support given to groups like the Anglo-American "deniable propaganda" outlet, the Institute for the Study of Conflict. The Cercle Pinay was a major source of support for the ISC virtually from its inception on; the Cercle Pinay and the ISC also tied in with another key British group, the Foreign Affairs Research Institute, heavily funded by BOSS, apartheid South Africa's secret service. BOSS's other incursions into domestic politics in Britain, notably their smear operations against leading Liberals such as Jeremy Thorpe and Peter Hain, were a significant factor in the hijacking of British democracy in the 1970s. Three Cercle members on the FARI Board assisted FARI's actions from 1976 through to the early 1980s. FARI in many ways was the British successor to a previous Cercle operation to support South Africa; the Cercle and the ISC had been active partners in setting up a Paris-based propaganda outlet in 1974 as part of South Africa's covert media campaign later exposed in the "Muldergate" scandal.

German intelligence reports on the Cercle Pinay written in late 1979 and early 1980 which were published in Der Spiegel in 1982 also shed new light on a "Thatcher faction" within MI6 in the lead-up to the Conservatives' 1979 election victory. Whilst receiving wide publicity in France and Germany, these reports have never been covered by the British Press. This serious omission is astounding in the light of the undeniable authenticity of the reports and the startling allegations they contain: one of the German intelligence reports dated November 1979 quotes a planning paper by Crozier about a Cercle complex operation "to affect a change of government in the United Kingdom (accomplished)".
Emphasis added. Think long and hard about that last statement. Let the implications roil and boil in your brain:
"to affect a change of government in the United Kingdom (accomplished)".
As you think about
that
, think about
this
:
Who gave us Obama? How did he come to be?
Although Teacher's book focuses primarily on the Cold War era, we are not talking purely about history here. In fact, we are talking about America's current president, Barack Obama.
In 2008, this blog (and precious few others) discussed that fine mansion in Chicago which the Obama family called home -- a house purchased under very mysterious circumstances. At the time, Obama was a relatively down-at-heels community organizer who had transitioned into state-level politics. Those of you who recall the scandal may be under the impression that the shady wheeler-deal Tony Rezko arranged that deal. But Rezko was simply a middle-man -- in fact, he was technically broke at the time.
The money, all $3.5 million of it, came from an Egyptian tycoon named Nadhmi Auchi. Nobody knows why this foreign businessman, who had many links to right-wing movers-and-shakers all over the world, rushed to the aid of a then-obscure "progressive" state senator in Illinois.
In 2008, eight stories linking Auchi to Obama were rather harshly censored from a variety of major newspapers.
Wikileaks has the story.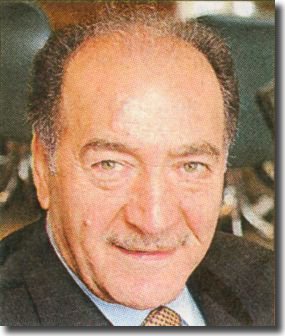 Auchi -- an Iraqi who advised the UK government during the recent war -- has had an interesting history: As I discussed in an earlier post, a US businessman named Dale Stoffel claims that, after Dubya went into Iraq, Auchi bribed Pentagon officials in order to attain control of that country's cellphone infrastructure. Before the war, Auchi profited from the oil-for-food deal with Iraq.
At roughly the same time...well, let's just quote from
Auchi's Wikipedia entry
:
In 2003, Auchi was convicted of fraud following his involvement in a $504 million corruption scandal centred on the French oil company Elf Aquitaine, described as "the biggest political and corporate sleaze scandal to hit a western democracy since the second world war".[14][15] Auchi was given a $2.8 million fine, along with a 15 month suspended jail sentence, for his involvement in the 1991 purchase by Elf Aquitaine of various Spanish oil refineries and petrol stations, having been accused by prosecutors of funneling $118 million of illegal commissions back to the Elf executives who had initially set up the deal.
According to The Guardian, "Elf became a private bank for its executives who spent £200 million on political favours, mistresses, jewellery, fine art, villas and apartments."
How does this man relate to the topic of today' post? Simple:
Nadhmi Auchi is a key member of The Circle.
From the Sunday Times of September 5, 2004:
NADHMI AUCHI is a member of an elite club known as Le Cercle. It consists of transatlantic businessmen and politicians and is often compared with the Bilderberg Group. The secretive group of 100 people meets twice a year to discuss global politics and business. The next meeting is scheduled to be held in Washington this month.

The club, which has close links to the intelligence services, was founded in the 1950s by former French prime minister Antoine Pinay and former German chancellor Konrad Adenauer. Guests at the club's meetings have included Richard Nixon, Henry Kissinger, the Sultan of Oman, Romania's Ion Illiescu and King Hussein of Jordan. The current chairman is Lord Lamont, the former Tory chancellor, and other members are thought to include Anthony Cavendish and Geoffrey Tantum, who are both former MI6 officers.
(One occasionally sees brief articles of this sort in European newspapers, usually without byline. It's always fun to think about who plants these squibs -- and
why
.)
Perhaps the largest of Auchi's companies was Compagnie Internationale de Participations Bancaires et Financieres. The director of this financial institution (which has deep ties to Jordan) was
Lord Norman Lamont
, a former Conservative MP with strong ties to
the worlds of intelligence and parapolitics
.
Since 1996 Lamont has been Chairman of Le Cercle, a foreign policy Club founded by German Chancellor Adenauer after the War with members from over twenty-five countries. This group, which meets bi-annually in Washington DC, includes many senior intelligence experts and has a particular interest in the War against Terrorism.
That brief bio come to us courtesy of Benador Associates, a neocon power group described in
this earlier post
.
Confused? Did I hit you with too many names all at once? Let's make it simple:
1. The very conservative Lord Norman Lamont worked for, or at least with, Nadhmi Auchi.
2. Lamont also chaired The Circle.
3. Auchi is one of only a hundred people who attends high-level meetings of The Circle.

4. Auchi also funneled millions of dollars to the then-unknown Barack Obama -- who, with amazing rapidity, rose to become president of the United States.
Remember what that internal Circle document said about the rise of Thatcher?
"to affect a change of government in the United Kingdom (accomplished)".
That
, my friends, is
power
.
Previously, members of the Circle destabilized Jimmy Carter and insured the election of Ronald Reagan. Teacher's book discusses these machinations at length.
From
Guyatt's piece
:
Additional Cercle targets may have been Olaf Palme, Sweden's Prime Minister.

In 1987 the leading Swedish newspaper Dagens Nyheter carried a sensational story that the 03 section of the Swedish intelligence service, SAPO, were heavily involved in Palme's assassination, following their fury at his policy of détente towards the Soviet Union, and possibly fearful that he may discover the extent of their implication in arms sales to Iran. Other "direct actions" possibly include a Coup d'etat in Belgium during 1973, "planned by gendarmerie officers and extreme right-wing groups."

By no means least were the allegations by France's leading daily, Le Monde, which in 1978 revealed the activities of Circle member and head of the intelligence service SDECE, Alexandre de Marenches. Le Monde claimed that de Marenches led a domestic campaign of terrorism and disinformation. It is fairly apparent that these activities were, "designedly", to keep Francois Mitterand from office during the 1974 elections. However, with the exception of the Langemann papers, and an ISC memo published in Lobster 17, there are no other Cercle documents available to confirm these allegations.
Canada also veered sharply to the right during the eighties.

We may never know the true extent to which the Cercle, and its black psyops "fronts" the ISC, WISC, CCS and others had in "affecting" a wholesale change in government in Europe, North America and elsewhere. Clearly the decade of the eighties witnessed a marked shift to the political right in the western democratic arena. It would be stretching credulity to suggest that this rapid swing in political ideology took place accidentally.
Let's get back to Auchi.
He also has strong ties to the Saudis...
President of the Anglo-Arab Organisation (AAO) since its founding in 2002. The July 2004 meeting of the AAO was attended by Prince Andrew, the Duke of York, Michael Howard (Le Cercle), the Conservative Party leader and leader of the opposition, king Abdullah of Jordan, Sheikh Badawi (Islamic College of London), together with many political, business and media elite. During the 2004 AAO conference Auchi said: " [the organisation, at its core] is the desire to build on, and further enhance, the fruitful, warm and productive relations which have existed over so many centuries between the United Kingdom and the Arab world." Auchi stressed AAO's important role in furthering interfaith dialogue as well as supporting initiatives aimed at "further integration of the welcomed British Arab community into mainstream society." On one of the pictures Auchi is shaking hands with Prince Andrew and King Abdullah.
Prince Andrew's involvement in the Jeffrey Epstein scandal may or may not be related to these machinations.
During the period of the anti-Soviet effort in Afghanistan, The Circle formed a strong bond with Turki al-Faisal, the head of Saudi intelligence. Thus, it is perfectly fair to state that when Al Qaeda was born, The Circle was there: The Circle was at the foundation of the Foundation.
This interview
with Elizabeth Gould and Paul Fitzgerald discusses
Le Cercle
and its links to the Afghan-Soviet war. (Gould and Fitzgerald wrote
Invisible History: Afghanistan's Untold Story
.)
6I:
As noted above, The Circle has its own spy service, operating above and beyond the CIA, MI6, the BND, and all other western services. This super-spy group has been called (erroneously) I6 and 61 (Sixty-one). It's real name appears to be 6I (with the letter I). We are told that 6I stands for "Sixth International," a winking reference to Marxist history. I suspect that that this nomenclature may actually have arisen from the earlier
"Five Eyes"
(or 5I) intelligence alliance. I also suspect that, operationally, 6I was an outgrowth of
the CAZAB conferences organized by James Jesus Angleton
.
6I operatives are called
numericals
. Isn't that cute?
6I, we are told, is modestly funded. However, I suspect that these spies will always have access to whatever cash they truly need. There was a lot of heroin money floating around in Afghanistan...
If you've been paying close attention to "spooky" matters over the years, you may have noticed that many right-wing covert ops were the work of agents who don't have much love for the CIA -- in fact, they have often
sneered
at the CIA. You may have asked yourself: "If these people have such disdain for American intelligence, then who
are
they working for?"
Now you are in a better position to hazard a guess. You might say that you have their
number
.
Some folks travel in a very rarified Circle.