Hillary Clinton said
many of the right things
in her kickoff speech on (dig the symbolism) Roosevelt Island.
"These Republicans trip over themselves promising lower taxes for the wealthy and fewer rules for the biggest corporations without any regard on how that will make income inequality worse," she said before a crowd estimated at 5,500, according to the campaign.
Mrs. Clinton specified policies she would push for, including universal prekindergarten, paid family leave, equal pay for women, college affordability and incentives for companies that provide profit-sharing to employees. She also spoke of rewriting the tax code "so it rewards hard work at home" rather than corporations "stashing profits overseas." She did not detail how she would achieve those policies or address their costs.
Hillary said that she would support a constitutional amendment to defeat the Citizens United decision
"if necessary."
There's no "if" about it, but at least we know that she won't stand in the way, as would any Republican.
Good stuff. But Obama said a lot of good stuff in 2008, and he disappointed many.
Mind you, he did not disappoint
me
: I expected even worse. Awful as he often is, he is not nearly so awful as I expected -- at least on the domestic front. When it comes to foreign policy, he has turned out to be even
more
horrific than I feared.
Back in 2008, even I, Cannon the captious, would not have believed you if you had told me that Barack Obama's administration would engineer a neocon/neo-Nazi coup in Ukraine while simultaneously sending a proxy army against Assad of Syria. That proxy army is now known as ISIS. The jihadis broke free of our control and went marching into Iraq -- and ever since, the result has been hell, hell, hell.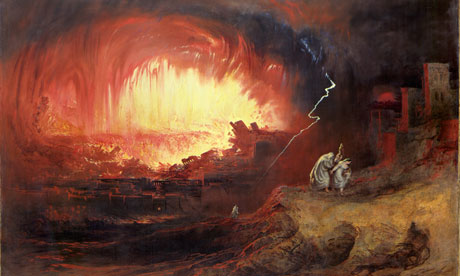 When it comes to foreign policy, Hillary promises to give us even
more
hell, hell, hell.
We have every reason to believe that neocons will still run the show whether the Democrat or the Republican wins the next election. In effect, we will continue to live under the Netanyahu administration, with spokesperson Barack Obama replaced by spokesperson Hillary Clinton.
At least Obama displays the occasional flash of independence. For example, he struck a deal with Iran. And he dodged a war with Syria in 2013, using the novel method of allowing that decision to be made the way the Constitution prescribes.
What can we expect from Hillary? We got a big clue back in 2011, when her goons
beat the hell out of former CIA analyst Ray McGovern
, who was 71. Why did they beat up a senior citizen? While attending one of her speeches, he had committed the sin of turning his back on her as a silent protest. The subject of her talk on that occasion was freedom of speech -- and the need for same in
Iran
.
Some acts of hypocrisy are so outrageous as to be sublime.
McGovern
here
draws an interesting comparison: At a public speech given four years earlier, another man -- his name now lost to history -- had bravely turned his back on the speaker, who happened to be Donald Rumsfeld. That protestor was left unmolested. Donald Rumsfeld, not Hillary Clinton, was the one who understood that some fights are best avoided.
Yes, there is still much to like about Hillary Clinton -- and yes, she will no doubt be preferable to whichever maniac the Republicans choose.
Look at it this way: Back in the 1960s, there were things to like about LBJ --
if
you could overlook Vietnam (not to mention the man's history of corruption, and the fact that he was just plain weird.)
But you
couldn't
overlook Vietnam. The Vietnam war was a big damned thing, too big to ignore.
Hillary's disastrous policy of regime change in Syria is a big damned thing too. We can't ignore it.
Given the fact that Haim Saban is a key backer of Hillary Clinton, we can't ignore this country's disgusting obeisance to Israel. We can't ignore the fact that that we have stupidly chosen sides in a Sunni-Shiite conflict which has nothing to do with our culture and traditions. We can't ignore the fact that neocons like the Kagan/Nuland clan continue to have a hammerlock on our foreign policy. We can't ignore the fact that powerful right-wing forces in this country are trying
to rehabilitate the image of fucking Al Qaeda
. We can't ignore the fact that this country staged a coup which brought Nazis to power in Ukraine. We can't ignore the way we've undermined reformist governments in South America. We can't ignore what happened to Chelsea Manning and Julian Assange and Edward Snowden and Thomas Drake.
We can't ignore the fact that some incredibly huge and populous nations have become so fed up with our neocon/neolib antics that they are quickly creating an alternative economic universe. And listen up, boys and girls: When
that
happens -- when the BRICS alliance reaches something like its full potential, when the Europeans understand that there is a workable alternative to our hellish system -- it's
adios America
, because people all over the world have simply
had
it with our shit.
In short, we can't ignore the fact that our foreign policy has given the world nothing but hell, hell, hell. Hillary Clinton was in charge of this country's foreign policy for four years. During that time, the State Department painted a depiction of the inferno that would have shocked
John Martin
-- and like it or not, Hillary's signature is in the corner.
I wish that we were dealing with the Hillary Clinton of 2008. But too much has happened since then.

Speak of the devil:
I've been thinking a lot about 19th century painter John Martin lately. He did hellscapes and apocalyses -- big, explosive paintings that the public loved. I've always gotten a kick out of his work, even though critics tend to sneer at it. At times, I've even considered trying my own hand at a hellscape, because I have a lot of cadmium red and it needs a home.
Here's the question: How does one make a
living
as a painter of the Inferno? Churches don't want such images. You can't hang them in public spaces. Are there many people out there who want to hang a hellscape above the living room sofa? Would
you?
I can neither confirm nor deny reports that a John Martin hellscape decorates a certain family compound in Kennebunkport, Maine.